HELSINGBORG - My Home Town.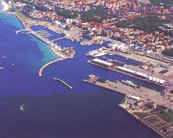 Helsingborg has a population of close to 118,000 inhabitants
and is thereby Sweden's 9th biggest community.
Helsingborg is situated at the narrowest part of Øresund
and the distance across the water to Helsingør in Denmark is not more than 4km.
Helsingborg is a trading centre, the harbour is the second largest in the country
and the European highways E4 and E6 cross one another just outside the town.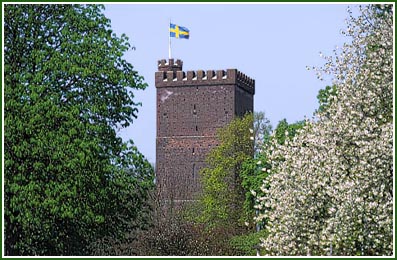 The tower Kärnan situated on the heights above the main square (Stortorget) is the remains of the castle which was situated in Helsingborg from the early Middle Ages until 1676 when most of the castle, with the exception of Kärnan, was pulled down.
The Maria Church (Mariakyrkan) is from the 14th Century and was visited in the Middle Ages by many fishermen who fished herring in Øresund.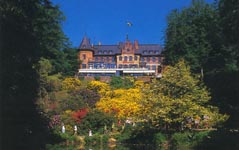 Click on picture to go to Sofiero's page

The best-known tourist goal is the Sofiero castle, built in 1885 by Crown Prince Oscar and his wife Sofia.
Sofiero was a Royal summer residence until 1973 when
King Gustav VI Adolf died and Helsingborg town inherited the castle.
During the last few years the castle has been restored to its original state.
The castle grounds are renowned for their rhododendron plantations.
**************************************